Engineering Service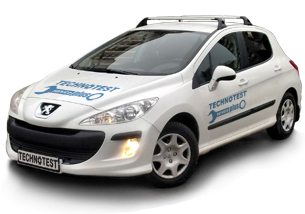 TeсhnotestPlus offers quality engineering services, including  design, engineering and manufacturing of special tools and equipment for the automotive industry companies.
We  provide a wide range of services from design/3D modeling and visualization to fabrication, installation and assistance in operating the final product..
Main directions of our activities: :

Design and manufacturing of specialized tools.
Solutions for automation and protection against unintentional errors (Poka-Yoke).
Configuring of assembly equipment, training and educating customer's staff.
Development of Automation Software.
Our specialists can resolve problems of any complexity. We strive to offer the best possible solutions.
The heart of our work is the individual approach. We will meet your expectations by offering the best results.

Project Examples:

RIG device for BLM stend allowing to apply the torque on the wrenches under test in an easy and precise way..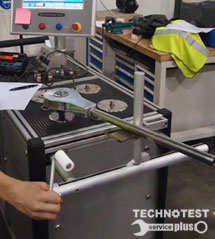 This device allows applying precise torque on wrenches under test in an easy and precise way. With the RIG device the operator's labor has drastically reduced, especially in tests where high torque loads must be applied to a wrench under test or during verification/calibration of BLM bench.
We received an urgent order to design and fabricate a BLM bench load device with specified characteristics. The main target – provide technical possibility to perform annual verification of the BLM bench.
The RIG device was fully developed by our engineers.
This unit covers the whole range of torque for each BLM bench transducer.
Installation time of the unit is less than 1 minute. (Depending on the task there is possibility to use BLM bench both with and without installed RIG device)
As a result the optimum solution was delivered to the customer - verification of the BLM bench was completed on time.
JOB selectorbox for Atlac Copco PF4000 controller.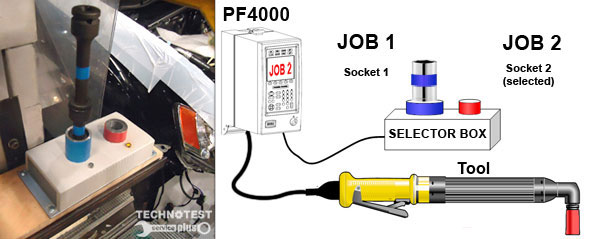 We received an order to design and fabricate Job selector box for the one of the Atlas Copco controllers on the customer's production line.
It should be possible automatically select the required tightening Job depending on which socket is selected.
Thanks to a special form of the input jacks the possibility of an erroneous choice of a tightening Job is totally excluded.
Color indication of input jacks, sockets and extensions together with LED indication in accordance with customer's specification facilitates the work of the operator and minimizes the possibility of error.